Brand new coworking centre in Melbourne CBD! Premium office or desk space available now for short or long term leases!

Launched in November 2018, Altitude is the brainchild of a team of work space entrepreneurs and professionals, who took it upon themselves to create the kind of space people had been asking them to build for 15 years.

"Altitude Cowork is the result of years of brainstorming and fine-tuning. " – Jens Boecher, CEO
A Coworking Space That Pushes Your Business To New Heights
Independent and Aussie-owned, the team elevate businesses by welcoming members to their boutique office space designed with collaboration and creative energy in mind, and in the heart of Melbourne CBD. Standing out from the crowd, Altitude Cowork offers services that cater to a range of business needs. There are quiet spaces, for when you need to knuckle down and focus, or vibrant collaborative areas where businesses can feel the collective energy of the crowd.
The team have opened their first coworking and managed office space in November 2018. 575 Bourke Street provides premium amenities, 24/7 access to superb desk space, and all in a brand new fit out.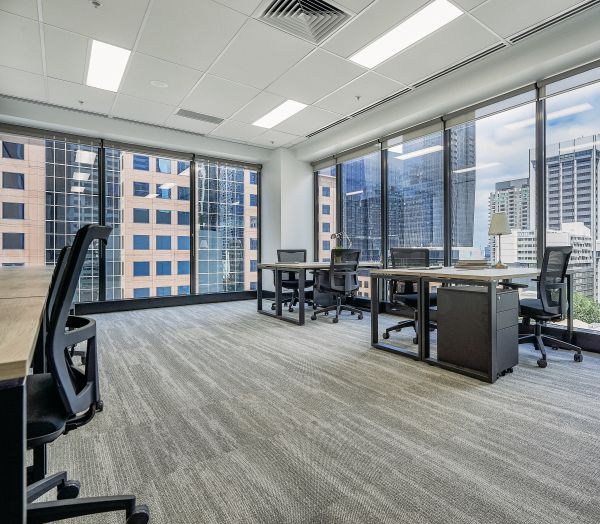 "We set out to build the kind of space that combines the collaborative spirit of a coworking community with the high-end features of a modern workplace." – Jens Boecher, CEO
---
Altitude Space Availability
Melbourne
7 Reasons Why You're Going To Love Working At Altitude Cowork
---
1. A Flexible & All-Inclusive Experience:
Stay because you love it, not because you're locked in. You can cancel your membership anytime and enjoy many of their premium facilities (including meeting lounges and phone booths) at no extra cost.
---
---
2. Fully Customisable Offices:
Your workspace design shapes your company culture, which is why Altitude gives you the option to fully customise your private office. Want to paint the walls red? Go for it. Hang your favourite painting? They'll bring the hammer.
---
---
3. The Latest in Tech & Facilities:
Altitude Cowork has fibre-powered WIFI, superior sound-proofing and spacious conference rooms complete with the latest tools & tech (bookable in advance).
They also offer premium amenities such as:
Private offices
Coworking permanent desks
Premium serviced office
Quiet zones
Event spaces
Kitchen facilities
Cafe and restaurant
Bike storage
Meeting rooms
High speed internet
Printing facilities
Collaborative lounge space
End of trip facilities
Board room and conference facilities
---
4. Access to a Curated Community:
Love meeting new people, but not a fan of speed networking? When you join Altitude, Gilles and the team will help break the ice and introduce you to their curated community, so you don't have to worry about making the first move.
---
---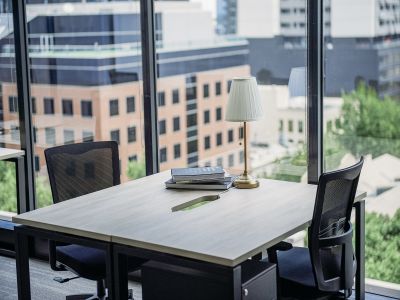 5. 24/7 Access To The Space:
You've got 24/7 access to your office or coworking desk, so if you feel like pulling an all-nighter or popping in on a Sunday morning, you're more than welcome to.
---
---
6. A Cold Beer On Friday Afternoons:
Head down to the Altitude Bar & Lounge to meet and mingle with other members. By the time 4pm rolls around, the snack platter is packed and beer taps fully loaded.
---
7. Prime location
575 Bourke Street, Melbourne
Being nestled in the bustling Melbourne CBD, Bourke street enables convenient access to a multitude of transport options as well as having access to a range of cafes, restaurants and shopping centres.
Transport options:

Tram: William Street/ bourke street tram stop is a 2 minute stroll away
Bus: Plenty of bus services running nearby: 216, 219, 220
Train: 400 metres to Southern Cross Train Station
Walk: Woolworths Bourke Street, short walk to cafes, restaurants, shopping centres
---
Altitude - The Vision
"As the coworking industry started booming, we realised businesses weren't always happy with what they were getting. After speaking to thousands of entrepreneurs, startups and corporates, we set out to build the kind of space that combines the collaborative spirit of a coworking community with the high-end features of a modern workplace." – Jens Boecher, CEO

"Coworking spaces are attractive to a lot of people, but some just aren't equipped to meet the practical needs of certain businesses, especially larger ones. At Altitude, we prioritise collaboration and creativity without compromising on quality and professionalism. Sure, we've got beer taps, but we don't play beer pong" – Gilles Guffens, General Manager
Other Australian Operators