Work in the heart of Manly at Berrins coworking. This boutique and privately owned coworking space is only a stone's throw from Manly Wharf and the iconic Manly Beach. Just 20 minutes by Fast Ferry to Sydney's CBD means commuting to and from is a breeze. With the world's best breakout area on your doorstep, enjoy your lunch outside overlooking the water. Take your pick, enjoy the waves at Manly Beach or read a book in the shade down by the Harbour. Both sound pretty good to us!
The office managers, Wes and Mel have created a friendly and nurturing work environment that has a great energy about it. Being a relaxed yet professional space means you will be focussed and productive working amongst like-minded professionals. The residents are largely first, second and third-generation entrepreneurs who are starting and growing all flavors of business. This drive and passion for business are what leads Wes to call:
Berrins. Where small business becomes great.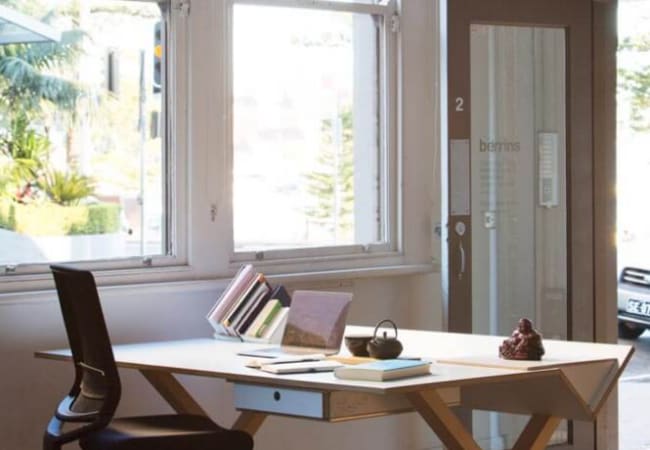 40 East Esplanade, Manly, 2095
First Time - On Arrival
When you arrive you'll be given everything you need to get straight to work, including:
Wifi access and passcode
Door access codes
Security codes
Printer access (fair usage)
The office is an open plan area with desks available to rent by the month, and comes with a private meeting room complete with smart whiteboard, and a private nook for quiet conversations.
Coworking Facilities
Coworking permanent desks
Ergonomic chairs
Premium serviced office
Meeting room access (paid for)
High speed internet
Aircon
24*7 keyless access
Quiet nook
Berrins Space Availability
$699 / month / desk
40 East Esplanade
Relaxed and productive
Rent by the month or for 12 months
---
Instant quote on office space from the Rubberdesk engine
Or call
1300 433 757
Other Australian Operators