Step by step guide to finding the perfect office for a small team
The office space market of today looks very different to just five years ago. Traditional leasing is being replaced by more favourable coworking spaces which offer flexible contracts from monthly to one or two year terms and provide offices for individuals and corporates of 300 staff.
Here's a simple plan with clear steps that make finding offices quick, easy and successful and you look like a rockstar.
Why choose a flexible office solution?
To be a successful small business, it's vital to keep hyper focused on your business and that means leaving the management of office space to others. Renting flexible office space gives you the room to focus on what you do best and leaves creating a fantastic place to work to the experts. There's no need for a long lease that financially and physically locks your business up.
Coworking has been widely adopted and has become a number 1 office solution for businesses of all industries. According to Deskmag's annual coworking report, there will be an estimated 2.17 million coworking members by the end of 2019. On top of this, with a 20% year on year growth, there will be around 22,000 coworking spaces worldwide!
"The choice of turnkey offices available has never been better and that's great news for businesses of all sizes."

"More and more businesses are wanting a space where their team can thrive, without the headache and upfront expense of leasing. The freedom to focus on their business without worrying about real estate is very liberating."
Said Jim Groves, Co-Founder and CEO of Rubberdesk.
Flexible office space includes:
Open plan coworking spaces, where desks are rented individually or in groups. You'll sit alongside other businesses and share resources such as meeting rooms and breakout areas, reception, kitchen facilities. Typically, these are all inclusive of outgoings such as electricity, Wifi and printing, but check the terms as providers vary. Rent as many desks as you need on a given month. Coworking desks are available on monthly terms or longer for discounts.

Private offices in serviced offices, where the office space is just for you. You'll also get access to the shared facilities such as meeting rooms and break out areas. Again all outgoings are often included, but check before signing what's included. Meeting rooms tend to be charged on a credit basis.

Spare Office Space with another business is an interesting alternative to renting with a Coworking or Serviced office provider. Traditional businesses with unused offices and open plan work space are now sharing their offices by the month or for a year and longer. You can rent a coworking desk or a private office and also have access to shared facilities. The availability and diversity of offerings from businesses renting their spare office space has never been better.
6 steps to find the perfect office
01.
List your needs
Use our checklist to help refine your team's needs. Do this upfront, it will save time later!
02.
Make a shortlist
We'll guide you and help make a shortlist of all the spaces that meet your needs. We'll refine it later
03.
Tour 5 or 6 offices
See the spaces first hand to get a feel for and compare the offices, your hosts and buildings.
04.
Get the best deal
Let's get proposals from the offices you've seen and compare them to find the right space for your business.
05.
Move in and get to work!
With all the amenities and furnishings provided, simply bring your devices, family photos and your favourite mug and get to work.
06.
Enjoy the benefits
Coworking gives you the flexibility to take more or less space as you need it! Allowing your business to grow at your own pace.
Step 1) Your requirements
There are office spaces to suit all styles and price points, but before you jump in and start digging through all the listings, it's worth taking a few minutes to think about what you want from a space. It will make it easier to narrow down your selection to just 4 or 5 options that match your needs, from which you're more likely to find what you're looking for.
a) Location and transport
Moving office is an ideal chance to reassess where you want the office to be. A lot may have changed since the last time you moved, and it's worth asking:
Where are our staff coming from?
Where are our customers based?
How do people get to us?
Ask these questions and open up the possibilities of where to search. You might find there are two or three viable locations for your business, depending on train lines, traffic and customers. Even when it comes to looking for a space in the "City", there are big differences within a short walk. Being "near" a City hotspot can often work out considerably cheaper and more spacious than being "in" a hotspot, so it's worthwhile to understand how flexible you are on location.
b) Number of people
Hardly any business has a fixed headcount, which is why flexible workspaces have become so popular. No longer are you tied to an office layout for three to five years, giving you the room to expand or retract within a space relatively easily. When you get to touring offices, ask the operators:
"What happens if our business grows or downsizes?"
Most Coworking operators want to support your business and where they can offer you alternatives, but it's always worth asking them how that might work.
c) Quality and style of office and building
There's a huge choice in the quality of buildings and their fit outs, from premium and heritage restored buildings to b grade older buildings. Within both type of building can be some fantastic office fit outs, so it's important not to judge a book by its cover. If the appearance of the building is less important to you, there are considerable savings to be made and you can get a lot more spacious spaces for your budget. Within Australia, there are a number of coworking operators to choose from such as WeWork, HubAustralia, Regus and Servcorp (to name a few). However, don't limit yourself just to the big coworking operators, often smaller businesses are looking to share their space which are often in convenient suburbs at much more affordable rates.
Also for consideration here is the shared facilities you'll need such as:
Access to meeting rooms,
An internal meeting room just for you,
Or a dedicated managers office
We've seen more and more operators offering internal meeting rooms to larger office suites as well as access to shared boardrooms and extra meeting rooms. At the more premium end of the market, some end of trip facilities include:
Showers
Changing rooms
Lockers
Gym
And not all coworking spaces are heavily branded - so when you meet clients, it will feel like your space.
Length of term
Unlike leasing, most coworking operators offer much shorter duration agreements.
Obviously the shorter the rental agreement the greater the premium you'll pay, and some operators have an automatic rate increase they apply to renewals.
Many will offer month to month, but encourage longer agreements with significant rent free periods and discounts. For example, we've recently seen a few operators offer 3 months rent free on a 12 month agreement.
Budget
So you know where to look, what you're after and for how many people, now it's time to put together a budget. We come to the budget last so that we have a more realistic budget when it comes to shopping for the best space for your business.
Asking for the best space for the least amount of money just leads to long and unsuccessful property searches.
The range of options available varies dramatically depending on your budget as does the space available, and this is where the big differences are.
Coworking operators don't like to talk about office sizes, and with good reason as it ignores the shared facilities, breakout areas, meeting rooms, kitchen and reception areas.
Most coworking offices fall into the categories of "Compact", "Comfortable" or "Spacious"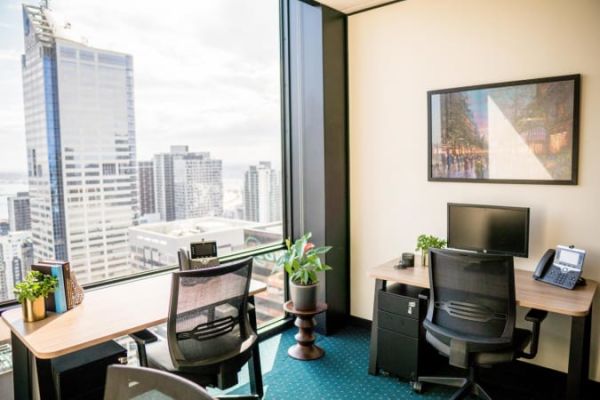 2) Shortlist your favourite offices
Once you've gained a greater understanding of what you need, it's time to start searching for office space. By creating a shortlist of your stand out spaces, it gives you the ability to find and compare based on price, inclusions and quality.
To ensure you have a valuable shortlist of offices, thoroughly read through the listings description, inclusions, lease terms or if there is any discounts on offer for 3, 6 or 12 month rentals. Additionally, looking through the photos is a quick and easy way for you to decide if the space is for you.
You can customise your search for office space, by changing the filters to suit your preferred:
Location
Price
Number of people
Office type: private office or coworking desks
It's important to give yourself 4-5 possible options so you have the best chance of finding the workspace that's right for your business.
3) Tour a few spaces
So you've found some potential offices which check things off your list. The next step is to tour the space yourself. We always recommend touring before making any decisions as it's extremely valuable to see the space first-hand. Feel what the atmosphere and office environment is like, meet your host as well as the other businesses who are sharing the space.
"At Rubberdesk, we always say it's not just about the desks and chairs, instead, it's the people you meet and the connections you form which matter" - Jim Groves Rubberdesk Co-Founder
When touring ask yourself:
Will everything your business need fit comfortably in this space?
If you have meetings with clients, is it easy to find?
Can you see yourself coming to work there every day? (and will you be happy!)
Remember, this will be your business's home! So take your time when touring.
4) Review the proposals and pick a winner
Now that you've successfully narrowed down your options, finding a home for your business is only a click away! When reviewing the proposals, take your time to go through the finer details regarding the inclusions and exclusions and ask yourself,
What's most important to you?
Is it all inclusive?
Are there extras?
Is meeting room access included?
Is reception services and phones included or needed?
How long is your lock-in period for? 1, 3 or 6 months
What discount do you get for signing for a certain time period?
How easy is it to take more or less space as you need it?
5) Book online, move in and get to work!
Set a move in date, book the space and call it a job well done!
Taking space in a flexible office allows you to move in nearly straight away. Additionally, if you've selected a furnished office, the plug and play nature of these spaces means that it is ready to go when you are! Simply bring your computers, plug in and get back to business as usual.
6) Enjoy the benefits of coworking!
Businesses sharing their spare office space on Rubberdesk enjoy more then just financial benefits, rather, the whole office environment is transformed into a collaborative, enjoyable workplace. Some of our Hosts describe the benefits:
"We get a really good team atmosphere and a creative space which is better for everybody" - Adam - Rubberdesk Host

"This is part of a hub, and it's part of a collaboration" - Emma - Rubberdesk Host
You have not only found an address for your business, but you have also gained access to an exciting network of likeminded businesses, often from all industries. Collaboration, inspiration and motivation only just describes the true essence of what coworking can offer.
You already love the work you do, now you can work where you love - The Rubberdesk team
---
Get a quick quote
Give us a brief and we'll shortlist a selection of matching spaces for you instantly.
Or speak to a Flexible Space Specialist on 1300 433 757