In an Australian industry first reflecting the evolving flexible and coworking office leasing sector, specialist leasing agency Cadigal has formed a joint venture partnership with leading flexible workspace marketplace Rubberdesk.
The joint venture brings an innovative approach to serving the growing flexible and coworking office market across Australia. Cadigal will provide professional real estate expertise and access to industry relationships with Rubberdesk delivering advanced marketplace technology and an experienced customer care team.
Rubberdesk's Australian flexible workspace market currently has an estimated 106,000 square metres of available office space, representing 4.8 per cent of the nation's total vacant office space.
On a significant growth trajectory, Rubberdesk tripled its listings last year with bookings growing by 650 per cent during the same period. It currently has some 2,500 listings Australia-wide and exclusively powers Commercialrealestate.com.au's coworking platform.
"Rubberdesk is really like the Airbnb of flexible office space, providing a full service online platform for organisations to list spare space and for businesses to find it. Our success has been driven by a combination of tightly-held office markets and a groundswell of businesses seeking quality premises on flexible terms.

Rubberdesk is the only flex space platform to manage payments and licence agreements where needed, making the whole process easy," said Mr Jim Groves, co-founder and CEO of Rubberdesk.
While coworking operators have been the driving force of the flexible space market in its formative years, Rubberdesk believe the real opportunity to unlock lies in monetising surplus desk space within private businesses.
"We're only scratching the surface of the total available market amongst traditional businesses with unused space that can be rented out on flexible terms," said Mr Groves.

"Rubberdesk was initially built for this purpose, to help businesses generate income from surplus office space. However, the spaces available are now split equally between coworking operators and traditional businesses with unused office space."
According to Jim Groves, Rubberdesk's clients include private businesses with surplus office space as well as major global and domestic coworking operators such as WeWork, Hub Australia and Workspace365.
Rubberdesk's customers include major corporates looking for off-site locations for special projects, growing businesses looking for flexibility, and freelancers looking to connect into a workplace community.
Three quarters of Rubberdesk bookings are for private offices where the average occupancy is for six people. Rates vary based on location and provider, with the national average $741 per person per month and Sydney CBD rates at around $941 per person per month.
Cadigal has also invested in the Rubberdesk business acquiring a stake in the proptech company and cementing its commitment to technology in the rapidly growing flexible and coworking space market.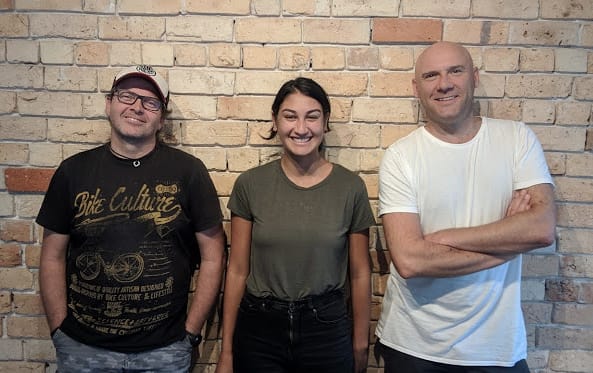 Above, the early Rubberdesk team in 2018
"Our national partnership with Rubberdesk enables Cadigal to remain focussed on direct leasing activities, while supporting Rubberdesk's growth in the flexible space market. We will benefit from the learnings and insights derived from the flexible space market. This brings us closer to growing businesses that will seek to directly lease space in the future," Mr Mark Tindale, Director of Cadigal said.

"The major coworking operators have delivered on pent-up demand for flexible office space. Led by WeWork and a cohort of other providers, they have successfully introduced a new look and feel for next generation office space with shared services and a sense of community. Customer service has also been elevated to a new level, with concierge staff and regular event programming" Mr Tindale said.
Flexible space customers typically want space quickly and seek 'plug and play' solutions in ready fitted, furnished and cabled environments. They value convenience, speed and flexibility of tenure with terms ranging from 3 to 12 months. Flexible space helps them mitigate risk and they are willing to pay a rental premium for this.
A confirmed market disruptor, flexible space and coworking has gained traction as a legitimate sub-sector of the market. Currently representing around three per cent of commercial office stock nationally, this is set to increase towards seven per cent judging by the experience in the London and New York markets.
About Rubberdesk:
Rubberdesk is the online marketplace where businesses rent flexible office space without being tied down with long term leases. Whether renting 1 or 100 desks, for a month or a year, we make it easy to find and compare fully fitted and all-inclusive offices and coworking spaces.
We make it easy for businesses with spare office space to create beautiful listings, take enquiries and tour requests from prospective like-minded guests. And when the deal is done, Rubberdesk is there to help manage payments and license agreements.
As well as being the proud partner of Cadigal, Rubberdesk also exclusively powers coworking for Commercialrealestate.com.au.
About Cadigal:
Cadigal is a pure focus office leasing agency with offices in the Sydney CBD and North Sydney. Established in 2011, a highly experienced and progressive team has built a strong client base and track record.
With collaboration being at the core of the company's culture, the team has grown to 24 people including leasing agents, development advisers, researchers, analysts plus marketing and operations executives.
Cadigal proudly manages leasing campaigns for institutions and private clients ranging from the largest premium grade developments through to small tenancies in secondary buildings. Major current appointments in Sydney include International Towers Barangaroo, Wynyard Place, Australia Square and on the North Shore, 5 Blue Street, North Sydney and The Zenith in Chatswood.
Contact information
Jim Groves
press@rubberdesk.com
1300 433 757
Have office space to rent?
List for free and start renting it today