WeWork has fast become one of the largest coworking platforms in the world. Known for their inspiring and innovative architectual designs, premium office space and global services, WeWork has effectively created a community that reaches a worldwide audience.
Disrupting the Flexible Workspace Industry
Launched in 2010, they opened their first shared workspace in New York. Since then, the company has experienced rapid growth, now reaching 400 locations across 26 countries.
In 2018 alone, WeWork expanded to 34 new cities, 8 new countries, reached 400,000 global members and effectively transformed the nature of the flexible workspace industry.
Deskmag's annual report predicts that by the end of 2019, there will be an estimated 2.2 million coworking members around the world. This astounding figure makes sense following the entrance of the likes of WeWork and the hundreds of other coworking operators both within Australia and across the globe. By getting a multi-billion dollar valuation, WeWork not only contributed to the disruption of the coworking industry, but raised a lot of awareness of this mode of renting and working.
---
5 reasons why WeWork could work for you
1. Access to a Global Community
WeWork heavily focusses on creating office space that enables people to network, develop new skills, help build businesses in an organic way and provide a space that offers much more than just a place to work. Taking a desk or office in a WeWork centre enables you to feel a part of a vibrant community shared with likeminded individuals from all industries. Facebook, Microsoft and Salesforce are some of the few tech giants who call WeWork home
2. Prime Locations
WeWork has 16 premium centres located across Australia. With 9 locations in Sydney, 5 in Melbourne and 2 in Brisbane, WeWork offers premium, affordable office space in prime CBD locations. Each centre is conveniently located near public transport, restaurants, cafes, green open spaces and shopping centres. Coworking at any WeWork centre gives you:
Professional business address,
Impressive space to meet and greet clients
Access to meeting and event space
3. Worldclass Social and Networking Events
With community being at the core of all WeWork does, becoming a member enables you to join and engage in a mix of membership programmes such as:
Happy Hours: a great opportunity to network with fellow WeWork members in a relaxed environment.
Office Hours: WeWork offers a number of sponsored advisory sessions for members.
Lunch and Learns: This member-sponsored event is a unique and awesome way to promote your own product or services.
4. Modern, Flexible and Inspiring Office Space
WeWork offers desks, private offices and even entire headquaters! With fully customisable office solutions, WeWork can provide a space to cater for you and your businesses specific requirements.
With flexible contracts, you have the freedom to upscale or downscale your business when you need.
5. Access to Premium Member Benefits
WeWork is unique in the way that not only do you have access to the modern office amenities and services, but you are also entitled to discounted rates on a variety of businesses and life services. These include:
healthcare
Banking
Fitness clubs
Flowers
Retail
Food
Testimonials
"Extremely friendly and welcoming staff. Great place to work with amazing people who are always full of energy. The building has shower amenities and offers excellent city balcony views from the main level. Complimentary coffee and beers make working here a no brainer!"

"Love the work space and all the events that WeWork has organised! The place is clean and the coffees are great!"

"Great place to work and collaborate. Coffee, good internet connection and friendly staff"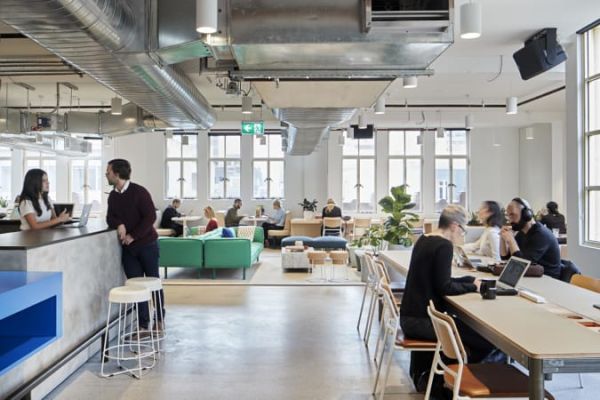 "Awesome co-working space. Great location. Wonderful staff that always takes care of the whatever the community needs. Meeting rooms and event venues when you need them. And free barista style coffee is not that bad either!"
Instant quote on office space from the Rubberdesk engine
Or call
1300 433 757
WeWork currently have 16 locations across Australia
All of WeWorks centres are located in prime locations, offer premium services and amenities and boast inspiring coworking and private office space.
Sydney
Melbourne
Brisbane
Instant quote on office space from the Rubberdesk engine
Or call
1300 433 757
Other Australian Operators