Demand for Flexible Office Space Continues to Grow Nationally

For a second consecutive quarter, the amount of vacant flexible office space fell nationally to 156,875 sqm after months of work from home requirements eased. Fueled by higher prices in Brisbane and Sydney, up 12.7% and 4.5% respectively, the national price to rent a desk in a private office space edged upwards by 2.2% to $613.

Demand remained strong throughout the first half of the year with the exception of Melbourne which despite showing some promise in Q1 ended June more subdued.

As the the largest city, Sydney continues to lead the market in costs at $900 per desk, up 4.5% from last quarter, while Brisbane up 12.7% and Melbourne up 4.5% to a competitive $690 and $687 respectively.

From a size perspective, larger offices continue to eat up more of the office budget, primarily due to additional amenities like private meeting rooms and private floor access that you won't find in a smaller office.
On the supply side, new centres opened in Sydney, Melbourne and Brisbane while Victory Offices's exit from Sydney CBD and three locations in Melbourne has also contributed to the overall decline in available space.
Source: Rubberdesk June 2022
Sydney Prices Jump 4.5% on Demand for Midsize Offices

As demand continued to grow across NSW, prices in Sydney rose 4.5% to settle at $900 per person QoQ, after reaching a new pre-pandemic high of $930 in May. Combined with the closure of Victory Offices's Sydney centres and Emerge in the CBD the amount of available space fell by 23% during Q2.

While many suburbs across Sydney remained flat, Barangaroo and Darlinghurst saw increases of 21% in monthly rates to $1,105 and $1000 per desk as demand for these two sought after locations grew.

Costs for teams of 5 to 25 people increased the most averaging 20% while larger offices for teams of 50 or more people saw a 33% drop in per desk costs from $859 to $573 per month.

What's New: Tank Stream Labs opened 4000 sqm in Haymarket; The Work Project opened at 50 Bridge Street in the brand new Quay Quarter Tower; Work Club Global recently opened at 200 George Street and The Executive Centre at Angel Place.
Stone and Chalk will operate the NSW's Scaleup Hub, located at 477 Pitt Street in Sydney starting in July while The Commons will open the newly redeveloped George Street office tower this quarter.
Source: Rubberdesk June 2022
Melbourne Office Supply Up 10% as Demand Remains Flat

Demand in the greater Melbourne region remained low. Unlike Sydney, prices have remained relatively flat, up only 1% from last quarter with a 10% increase in vacant office space due to the addition of new centres adding to supply.

For businesses looking for a deal, the Melbourne CBD provided great value at $679 per desk per month, compared to $900 and $896 in Richmond & Southbank. Outside the CBD, businesses can find further savings with great prices on offer at $513 in Collingwood and $530 in Docklands.

The amount of vacant space increased by 10% this quarter with offices for 16 or more people accounting for the majority of space. There was also an increase in available Enterprise space in Melbourne with the number of offices for 50 or more staff rising substantially as this segment continues to compete with sublease and fitted suites offered by landlords.

What's New: The Loft Workspaces, developed by GOLDFIELDS and JLL's joint venture, launched a new offering at 627 Chapel Street adding 3,243 sqm of flexible office space; Located on the 30th floor, The Executive Centre opened at 30 Colins street.
Workspace365 will open a new 1,356 sqm office in Geelong in September while Hub Balaclava will open 2,900 sqm of premium workspace over three floors at the new Open Court development at 21-23 William Street later in the year.
Source: Rubberdesk June 2022
Brisbane Prices Climb 13% on Increased Demand

After vacant office space dropped 35% in Q1 of 2022, operators have added a net new 11.5% of Flex office space in Q2 with most of this new supply coming from new centres. Despite this increase, demand has been high leading to a 13% increase in desk price to $690, the largest QoQ rise we've seen in Australia this quarter.

Though Milton and Fortitude Valley do not have the same capacity level as the Brisbane CBD, at $550 & $547 per desk, they both represent good value for smaller teams.

Offices for teams of 11-15 continue to be in high demand and saw the biggest increase in price, rising 60% to $916 per desk while enterprise offices for teams of 50 or more people dropped by 38% to $495 per desk.

What's New: Spaces opened a new space at Jubilee Place in Fortitude Valley at 80 Ann Street; @Workspaces opened its recently renovated venue at 339 Coronation Drive; Located within the stunning new MOBO building towering above South Bank, Mobo Coworking is now open.
Source: Rubberdesk June 2022
Perth Prices Remain Flat

Perth and its surrounds had 102 Flex offices across 26 buildings available to rent at the end of June. There's a total of ~4,895 sqm of Flexible office available, with nearly 900 workstations at a median cost per person per month of $600. For solopreneurs a single shared desk in a coworking space can be found for $455 per desk.

In high demand, Northbridge fetches the highest rent per desk at $900 per month, while both West Perth and Subiaco provide variety and good value at $550 and $448 per desk respectively.

Like Sydney, Perth saw a 33% reduction in the number offices for teams of 10-15 people contributing to a 71% increase in cost to $1000 per desk per month.

What's New: With three premium locations in the CBD, Spacecubed recently listed on Rubberdesk leading to a net gain of 2.5% in available office space.
Source: Rubberdesk June 2022
Adelaide Prices Continue Upward Trend

Though volatile due to the smaller sample size, prices in Adelaide have been on an upward trend since hitting a low of $400 in December 2020 to settle at $557 per desk at the end of Q2.

While you can find cheaper prices outside the CBD in Mawson Lakes and Prospect, the size and number of offices is extremely low.
The median price for a desk increased by 6% led by smaller sized offices for teams up to 10 which jumped 11.4% to $557. Prices for larger teams of 11 or more desks remained flat QoQ.

There are currently 51 offices available providing 395 workstations across 18 buildings.
Source: Rubberdesk June 2022
Prices in North Sydney Fall for 2nd Consecutive Quarter

North Sydney continues to provide a good mix of office space that includes smaller offices with boutique and local operators to whole floors and enterprise suites.
With a median cost of $483, per person per month, down 4% QoQ, North Sydney presents amazing value and ~46% discount to that of the CBD while the closure of Victory Offices' Mount Street office contributed to a 23% decrease in available space QoQ.

Not only does North Sydney continue to provide great value compared to the Sydney CBD, but even when look closer at other surrounding suburbs, North Sydney continues to be one of the more economical centres in NSW.

Smaller offices for teams of less than 50 decreased an average of 2.2% over the past quarter while enterprise offices for teams of 50 or more increased by 7.7% to $490 per desk.
What's New: Look for a new Spaces venue in July at 1 Denison.
Source: Rubberdesk June 2022
Prices Jump 6% in Canberra QoQ

After remaining relatively flat over the past two years, the cost to rent a desk in a private office in Canberra increased 6% this past quarter.
Vacant floor space also climbed by 9% to 5,825 sqm as current operators added more stock to the market.

Fyshwick & Symston represent the greatest value with median prices of $240 and $400 per desk.

Smaller offices for teams up to 10 and those greater than 25 people led to increases of 11.2 and 7.4% respectively.

There are currently 117 vacant offices presenting space for 1,100 workstations with a median cost per person per month of $518.
Source: Rubberdesk June 2022
Download the full report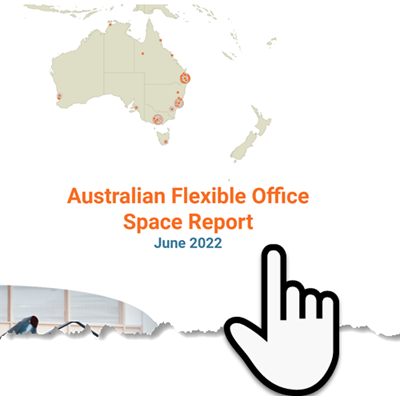 Click here to download the print friendly report.
Rubberdesk is Australia's flexible office marketplace with thousands of fully furnished serviced offices and coworking desks ready for you to move in and rent by the month or year. Our proprietary platform combined with industry insights from our office specialists helps you find the best office for your needs.
With a view across all available options, we simplify the process to create a bespoke shortlist, arrange tours and negotiate the best deals. All for free and without obligation.
For further information, images and interview requests, please contact Jim Groves at Rubberdesk: