When it comes to office space, there are many different factors that influence the price you pay. These factors range from the location of the office, quality and standard of fit out of the building and the amount of space needed for you and your team. As you'd expect you'll generally pay more in a sought after area in a premium address with top quality fit-out.
If you're looking for flexible office space for 100 people or less, there are thousands of turnkey private offices right across Australia in every major city and many small towns across all states.
A key starting point for many businesses is budget and we've compared all the locations around Australia, looking at the median office rate per month per person to bring together the most thorough comparison possible. Need office space in Sydney CBD? and you can expect to pay more than you would in North Sydney, Melbourne or a small town in WA, for instance.
At a State level NSW is most expensive per person per month for private office space, boosted by the rates found in Sydney CBD in particular. Victoria follows and WA is third most expensive per seat.

Median Office Price Per Person by State
We've drilled down into the detail of the office spaces available and bring you the most comprehensive and up to date analysis of Flexible Office space anywhere. We've analysed over 185,000 sqm of office space from over 3,800 offices for rent in Australia and on Rubberdesk with real-time availability and pricing.
Median Office Rate Per Person
Median Coworking Desk Rate
Flex Floorspace Available (sqm)
Available Desk Capacity
$600.00
$495.00
167,820
28,431

*Price date from March 11, 2022*
And because Rubberdesk has over 2,000 businesses listing their office space for rent, it's the best place to compare all that is available.
So, here's what we've looked at:
For any type of office, whether in a converted warehouse or a premium office building, location often dictates the price. When we dive into the data, Sydney CBD is by far the most expensive city in Australia to rent office space, with Melbourne and Sydney suburbs close behind. If budgets are tight as they are for many startups and may well be for many other companies as they return to the office post-pandemic there are plenty of locations on the fringes of the CBD to save thousands per month.
Up until 2010, most commercial rental agreements were conducted on a fixed yearly basis for 5 to 10 years forcing you to lock into long-term arrangements that may or may not fit the growth of your business. If your business grew or shrunk, you'd be at the mercy of the landlord to change your space and in many cases would have to wait until the end of the lease to make any major changes.
With the explosion of the startup ecosystem and the coinciding growth of coworking and serviced offices, flexible terms became popular for many small businesses who didn't have the budget to commit to long-term leases. Today, businesses of any size, from one to a hundred-plus people have the option to sign more flexible agreements for a year at a time. This means that now, for the first time, the duration of tenancy commitment can match the certainty each business has about its business plans and fit their immediate need with room to grow or retract as required. For those businesses facing too much uncertainty and risk, there is even month-to-month agreements available for both coworking operators and traditional businesses who have spare office space to rent.
If you're a big fan of flexible office space for the flexible payment options, then you'll have a few choices to consider. If you're not sure where you'll be in 6 months or a year then a month-to-month contract is ideal, though you'll pay a slight premium of anywhere from 10-20% for the privilege. If you don't mind making a longer-term commitment for a year or longer then you can often negotiate a better deal than the rates shown. In fact, right now we're seeing deals offering 60% discounts when signing a 12-month agreement to entice companies back after the pandemic.
As a business, you have a plethora of options available from fully-managed office operators such as Regus and Servcorp to the new kids on the bloc including WeWork, Regus (owned by IWG), JustCo, and Australian owned Altitude, Hub Australia, and Workspace365 to name a few. From desks and chairs to printing and amenities such as showers and bike racks, these fully managed operators provide everything you need at a single monthly price with the option to add more desks or downsize the space as needed.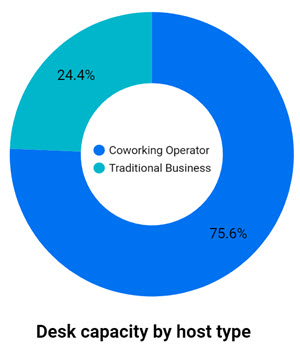 At Rubberdesk we have over 2,000 businesses who are renting out their office space. It's not just coworking operators, we also have traditional businesses who would sublease their office space, and are offering it out on flexible terms. These little gems of office space place you in great locations and amongst other like-minded businesses on the terms you need, and offices rented out by regular businesses with too much space make up a third of Rubberdesk's listings.
From a cost perspective, renting space from traditional businesses with spare offices is typically cheaper than the dedicated coworking operators, in part due to their lower overheads, and also because rental income for them is not their core business model.
This type of space often referred to as ghost space, is unique to Rubberdesk. While this type of flexible space is often cheaper than most fully managed offices, space may be limited to what's available making it more difficult to add more desks as your business expands.
Though many coworking operators have rates specifically for a single desk in an open plan space available, these generally represent less than 20% of the available spaces.
Private offices make up the vast majority of Flex space rented. These private offices typically share communal facilities such as meeting rooms, bathrooms, and kitchen areas but are self-contained and fully serviced.
When looking at office size, the smaller private spaces of fewer than 10 desks account for 82% of all available space. This is somewhat in response to demand for smaller private spaces by businesses that are looking for safe places for their employees to work away from HQ or home and with new physical distancing guidelines from Work Safe Australia coming into play, we expect the operators to alter open plan coworking spaces into more private small offices.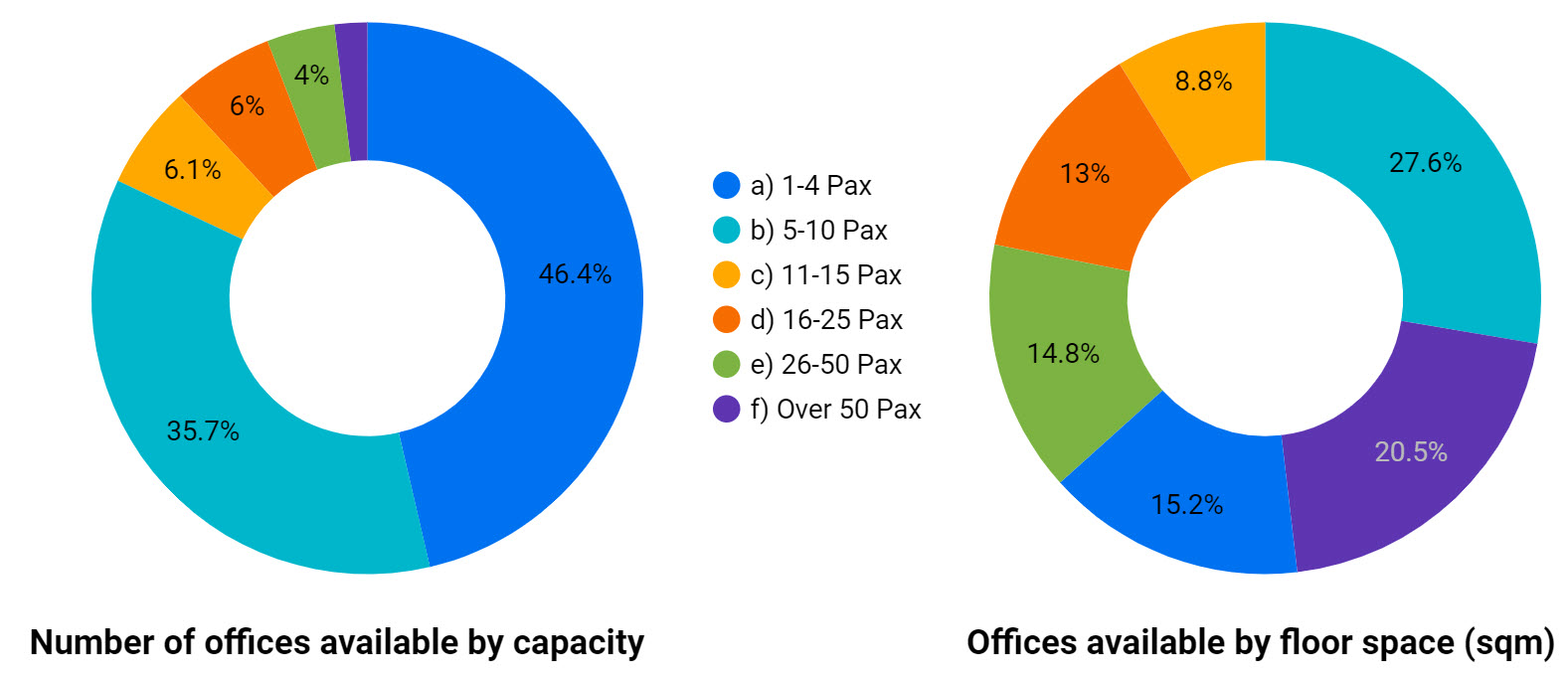 For traditional office leasing, rent is calculated based on the price per square meter and multiplied by the size of the space to give a net annual rent. On top of the rent, they are also outgoings and land tax which must also be paid by the tenant. For a 60 m² unit with a $1,000m² net rent in Sydney CBD, the monthly rent for an office in Darling Harbour in Sydney comes out to $5,000 per month (60 x $1,000 / 12 + GST), on top of which are outgoings for building management, electricity, Internet, etc, which are not always fixed.
For flexible office space though the calculation is often simpler and dependent on the size of your team to calculate the number of desks your business needs. If for example, each desk in a private office costs $800 per person, the cost for a 6 person office is simply $4,800 ($800 x 6 = $4,800 per month). Flexible office rental typically includes credits towards meeting rooms, printing facilities, but for heavy users of either, there are options to have these services included. Of course, outside the office space and desks, you call home, you'll also have access to common areas such as kitchens, meeting rooms, washrooms, and other amenities such as showers and even secure bike racks.
It's important to note that a traditional office rent does not cover the fit-out, desks, or any amenities you want to offer your staff. In addition, you may be paying for excess space that you don't need.
On the other hand, a flexible office space gives you the opportunity to only pay for what you need and numerous amenities that would otherwise not be economical or feasible in a small traditional office setting.
The cost of office space varies by location, amenities, proximity to transport, terms and economic factors. So when looking at the cost of office space it's important to look regionally to get a better sense of what you might be paying in your location.
Nationally, the cost of office space for a smaller team is cheaper for teams under 10, though this will vary by city depending on the number of spaces available. The higher price range for a 50+ office is a reflection that it may encompass one or more entire floors with private meeting rooms, kitchens, and other amenities including private elevator access.

Median Monthly Price Per Person by Office Size for Flexible Office Space Across Australia
The data presented throughout this document is based on the median prices available for 1-4, 5-10, 11-15, 16-25, 26-50 & 50+ private offices available in locations around Australia. While the prices for most large cities will encompass hundreds of options for each office size, smaller cities such as the Gold Coast may have fewer options available depending on the number of operators and little or no options available for some of the larger office sizes.
When broken down by host type we can see that there are significant savings to rent space in a Traditional Business with the tradeoff that you may not get all the same amenities offered via a Coworking Operator.
Median Monthly Price Per Person by Office Size by Host Type and State
With a vacancy rate of 13.3% prior to the pandemic, operators had been slashing prices due to increased vacancy rates. However, as pandemic restrictions have been eased, we're starting to prices increase this quarter as demand picks up and businesses look to return to a new office environment.
At a State level, New South Wales (NSW) and Victoria account for over 75% of the flexible office space in Australia between them, with Sydney and Melbourne CBDs respectively the largest centres. North Sydney follows, with Brisbane not far behind and growing fast.
When it comes to price, NSW is the most expensive per person per month for private office space, boosted by the amount and rates found in Sydney CBD. Victoria follows and WA is third most expensive per seat.
| City | 1-4 Desks | 5-10 Desks | 11-15 Desks | 16-25 Desks | 26-50 Desks | 50+ Desks |
| --- | --- | --- | --- | --- | --- | --- |
| NSW | $697 | $603 | $615 | $746 | $766 | $650 |
| VIC | $600 | $600 | $593 | $580 | $640 | $733 |
| QLD | $582 | $520 | $490 | $539 | $541 | $642 |
| WA | $600 | $595 | $567 | $558 | $452 | |
| SA | $567 | $500 | $688 | $565 | $385 | |
| ACT | $465 | $489 | $782 | $672 | $495 | |
| TAS | $400 | $400 | | | | |
Nationally Rubberdesk has an estimated 167,820 sqm of Flexible office space available for rent as of March 11, 2022. The Flex office space data here is not counted elsewhere in national statistics for available office space since it is effectively already rented.
Sydney is at the top end of prices as calculated by median rental per workstation, with rents for 1-4 person offices double those found in Hobart and Adelaide. The data indicates Perth rentals are more expensive than Sydney's for 5-10 person offices, however, we suspect this is an anomaly of the data set and not an indication of the wider market dynamics.
| City | 1-4 Desks | 5-10 Desks | 11-15 Desks | 16-25 Desks | 26-50 Desks | 50+ Desks |
| --- | --- | --- | --- | --- | --- | --- |
| Sydney | $873 | $1,000 | $1,196 | $1,000 | $770 | $790 |
| Melbourne | $671 | $650 | $662 | $736 | $746 | $705 |
| Brisbane | $695 | $657 | $649 | $612 | $534 | |
| Perth | $663 | $675 | $848 | $540 | $452 | |
| Adelaide | $559 | $591 | $695 | $565 | | |
| Canberra | $519 | $608 | $784 | $688 | $529 | |
| Hobart | $400 | $400 | | | | |
How much does it cost to rent a desk in Australia?
The median price to rent a desk in Australia is $495 per person per month as of March 11, 2022.
What does it cost to rent a private office in Australia?
The median price to rent a private office in Australia is $600 per person with rates that range from $580 per person for a small office of 11-15 people to $701 per person for an office for 50+ people.