Creatives and coworking
Digital media agencies are a great fit for coworking and serviced office space. With access to collaborative open plan spaces, flexible lease agreements, private or open plan offices at affordable rates, coworking gives these industries the chance to flourish in a cost effective way.
1. Collaborative work environment
We like to think Coworking is made up of the three C's: Connect, Collaborate and Create. All of which are achieved by taking a desk or office in a coworking space. Not only do you gain access to a vibrant community, but the networking opportunities that present themselves are second to none. Whether you're catching up about your weekends or seeking another perspective regarding a work project,
coworking offers you the chance to work for yourself, but never by yourself.
It's workmates without the office politics, and we wouldn't have it any other way!
2. Reduce overheads & focus on your business
For a freelancer or small business, renting traditional office space is costly and time consuming. However, in a flexible office space you pay for what you use and in turn reduce significant overhead expenses. Coworking centres often come fully furnished with desks and chairs, internet, reception staff, printers, meeting rooms, event space and other amenities, helping cut any unnecessary office costs. Additionally, coworking spaces give you the added flexibility to take more or less space as you need it.
You focus on your business and let others worry about managing office space.
3. Professional Business Address
Do you want that prime office in the centre of the CBD? Or do you simply need a desk in a convenient suburb? Whatever the case, coworking gives you the chance to work in a premium buildings, in a prime locations all without the upfront set up costs.
With professional meeting rooms, reception services and flexible lease agreements your business will boast a professionals address to bring your clients to and hold meetings. And not all coworking spaces are heavily branded - so when you meet clients, it will feel like your space.
4. Find Desks in Inspiring Office Spaces
Meditation rooms? Networking events? Gym Access? Yes please! These are just some of the unique services that coworking spaces offer. All of which add to the overall experience and workplace culture of a coworking space.
You need to attract and retain the best staff, and when they step into your office and love the vibe of the space - they'll love coming to work for you.
5. Flexibility for Future Growth
Aim big in coworking!
We understand that moving offices can be extremely stressful, not only that but as your team grows so does the pressure to find a larger office. With hundreds of office solutions for teams of all sizes, coworking gives you the ability to move into an already furnished office allowing you to get back to business as usual - hassle free.
Here are some of our top offices perfect for digital agencies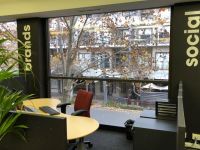 ---
---
---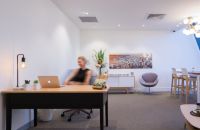 ---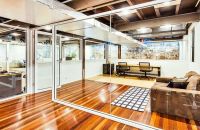 Unsure of which coworking provider to go with?
Here at Rubberdesk, we have some of the best Coworking and Managed Office Operators in the world who list their space. We've been busy collecting all the details about each of them in one place - so you don't have to do any leg work.
Australian Coworking Operators
Other industries in coworking