Not All Coworking Spaces Are Created Equal. Thankfully.
Coworking sometimes gets a bad rap from those working in the professional services. With the unfair perception that offices are full of Millenials in ripped jeans and buzzing round the office on skateboards while sipping Chai Lattes. It's certainly evident in how Servcorp are pitching their coworking space as:
"Co-working for Grownups."
In fact Servcorp as the elder statesperson of coworking, is taking the fight to relative newcomer WeWork, with a landing page dedicated to comparing the two Coworking offerings. We won't spoil the surprise of who Servcorp think have the better offering. The truth is that it all depends on what you want from your office space and reinforces that you should take a bit of time to tour potential office spaces to find the best fit for you and your business.
---
Commercial Real Estate Successfully brought Coworking to Market
June saw a game changer for Australian flexible office space with Rubberdesk Powering Commercial Real Estate's coworking pages. This has brought around 2,000 of Rubberdesk's Australian listings to Domain's flagship commercial property pages.
"The key differentiator is Rubberdesk's mix of coworking operators and traditional businesses sharing their spare office space. The uniqueness of the spaces we offer for rent and the power of Commercial Real Estates' distribution is a powerful combination" Jim Groves, Co-Founder and CEO, Rubberdesk.com.au

"We are constantly looking for innovative ways to broaden our offering for our users and we are thrilled to bring the coworking space to life on our platform." Maty Paule, Director of Product for Commercial Real Estate
---
The BBC Covers Coworking
You know Coworking is mainstream when the BBC's Economic Editor Evan Davis produces a Radio 4 programme on it Listen Here. In it WeWork talk about their sites and members, with some impressive stats:
Over 10 million square feet of office space
30,000 members worldwide
26 locations around UK open
30% of occupied space is from large companies
Spaces in UK have opened at 90% occupancy
6% drop in WeWork earnings per member. Although no comments as to why the drop in earnings.
---
All the Perks in the Race to Attract and Retain Members
It used to be that corporates would differentiate themselves as employers of choice by offering perks such as gym, a masseuse, fabulous food options and gorgeous breakout areas. Perks that for the small business, satelitte office or freelancer were out of reach. Not anymore. Spaces are becoming larger and existing spaces are constantly looking for ways to differentiate themselves to attract and retain members.
One such example is Victory Offices in Melbourne which has opened a seperate Exclusive Lounge as a means of creating an informal workspace for members to bring clients or have some down time. Operators are continuously searching for ways to maxmise the per square metre of space.
Commercial Real Estate reported how operators are providing members with more value added offerings. It's not just ping pong, free beer and pizza that attracts businesses to spaces. Lunches cooked to order by in-house chefs, wine or whiskey tasting or access to gym membership and yoga classes are among the perks of the most tempting work spaces. "Happiness Teams" provide concierge services for everything from coffee runs to dry cleaning. There are even pop in barbers and nail bars.
"Rather than being a landlord and sitting back and saying 'this is the space, take it or leave it', you come here for an experience. It's all about service, it's all about the experience." Tobi Skovron, Founder & CEO, CreativeCubesCo.
The value companies place on high quality office space, with access to value added extras, reflects the value they place on their staff and is rewarded with staff retention.
The popularity of coworking continues to grow inversly proportional to that of traditional property leases, which are seen as landlord friendly, capital intensive and in stark contrast to the way and speed with which new businesses move. Through membership programms, businesses are no longer limited to their leased offices, but can travel and be welcomed into any group office worldwide.
---
How big is Coworking?
There's no doubt that there's plenty of hype and marketing around Coworking, so what do the stats say about the number of people in Coworking spaces. Research from Deskmag puts estimates at least 1.7 million people globally working in coworking spaces by the end of 2018. And there being around 19,000 coworking spaces around the world.
The average space accomodates 82 members.
Nearly a quarter of spaces have over 150 members.
A third of operators plan to open another location.
Members are pretty sticky with around three quarters happy and planning to stay put.
In Australia estimates from Knight Frank analyst Kimberley Paterson puts the number of coworking spaces in Melbourne, Sydney and Brisbane at 239, and occupying nearly 120,000 sqm. Out of those cities Melbourne accounts for 56 per cent of the total number of spaces.
CBRE's Pacific Corporate Co-Working Study puts the number of coworking operators at 253 across Australia, making it the seventh largest coworking market globally and accounting for 0.7% of all commercial office space.
Have office space to rent?
List for free and start renting it today
Sydney's flexible office space is is booming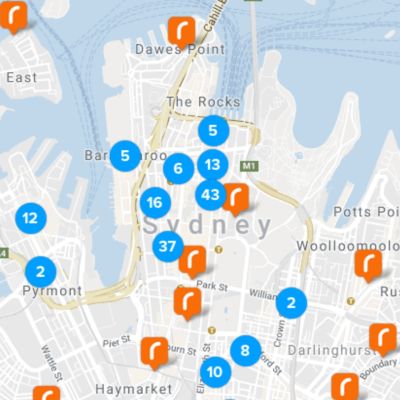 The percentage of net lettable area as represented by coworking space jumps to 2% when looking at Sydney's CBD, where there's over 100,000 sqm of flexible office space across 60 centres.
Tight vacency and high rents in and around the CBD have driven for the increase in demand for coworking services.
Coworking providers are focused on providing smaller offices scattered around the city to expand their catchment area and provide more choice for businesses. However, there still exist the flagship offices such as WeWork committing to occupying the entire 10,000sqm of Daramu House in Barangaroo, which will be underway in 2020.
Outside the CBD, coworking providers focus more on the traditional coworking strengths: providing unique and creative office space for small business, start-ups and entrepreneurs. Rents are lower, are often in trendy residential areas and still often enjoy convenient access to the CBD.
---
Melbourne has seen exponential growth
Over the past 5 years, Melbourne has seen significant growth in the number of Coworking sites. Greater Melbourne is estimated to have over 190 shared working spaces with around 45 centres located in the CBD, representing approximately 1.5% of CBD office stock.
The number of coworking services is highest in the CBD and surrounding fringe suburbs with 60% of coworking spaces found here.
The growth in demand is being driven by the start-up sector. However, like Sydney, larger corporations recognising the collaborative atmosphere and connections that can be made, are increasingly on the hunt for office space in Coworking centres. Within the last two years, existing operators such as Regus and WeWork have significant increased their national footprints and new entrants have grown such as Altitude, Hub Australia, CreativeCubes as well as a number of others.
---
Brisbane and Perth; Smaller But Growing Markets
While around 80% of Briabane's 40 flexible offices and 40,000sqm space, is in the CBD, Perth seems to be more distributed with only 37% of spaces in the CBD. Demand is still being driven by the start up sector (a feature of early stage coworking markets). However, that would appear to be changing with the introduction of some of the bigger market players such as WeWork, Hub Australia and even Dexus introducing a flexible work space in its buildings. In Perth, Spacecubed has been the incumbent operator with four centres in the CBD.
---
Who is using Coworking Space?
In short, almost all sectors and company sizes use Coworking and Flexible office space to some extent and as part of their property portfolio. CBRE research suggest ~a quarter of occupiers are from the Finance and Insurance sector, with a further 20% from professional services. The Media agencies, Telecoms, Information Tech and Public Sector make up a further third of occupiers. The split of occupiers floor space taken is near equally split between large, medium and small occupiers. The sector most polarised by coworking seems to be the legal industry where the more traditional firms have no plans to use it, and the more progressive firms are already involved. Flexible offices can be broken down into four distinct categories:
Coworking (47% of all space)
Serviced Offices (33%)
Meeting and Event Space (13%)
Turnkey solutions (7%)
When asked about why they use coworking space, existing users' responses were most inclined towards the flexibility offered, with only the sixth most popular response being the reduction of overall costs.
---
Concerns Over Speed of Growth
There are concerns regarding the sustainability of the sector due to the quantum of space coming to market and concerns around the strength of underlying lease covenants and operator profitability. However, the macro trends and shifts in technology seem to be providing a tailwind to the industry. This is bourne out by CBRE's research showing that over the next two years occupiers expect:
to decrease leased office space (52% of respondents)
to increase use of coworking solutions (50% of respondents)
The opportunity for coworking is now to break away from being the sole preserve of startups to appealing to corporates. "Larger corporates want the flexibility but need a more sophisticated and brand-aligned experience in an environment that enables and supports fast-paced innovation and positive disruption." Nicole Fitzgerald, National Director, Workplace Strategy, CBRE.
Contact information
Jim Groves
jim@rubberdesk.com
1300 433 757